Lancashire Quality Award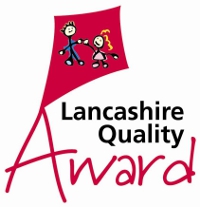 The Lancashire Quality Award provides an opportunity for practitioners to spend focused time together looking at what they do everyday and considering which parts work well and which could be further developed. It is an overarching systematic tool for self-evaluation and reflection that will embrace all areas within settings, from leadership and management to daily routines.
The Lancashire Quality Award is underpinned by the principles of the Early Years Foundation Stage and the National Quality Improvement Principles.
Through discussion, practitioners will be able to unpick and embed their philosophy and values and establish the
ethos of their setting. Every setting is different and the award celebrates this fact. Practitioners are supported in recognising that there is no right or wrong way of doing things but that there are always ways to further develop practice in order to raise quality.
With the Lancashire Quality Award it is the process of working together to improve quality which is emphasised,
embedding the habit of constantly reviewing practice and being open to change, rather than the end-product of the award. Each setting will be allocated a mentor by the Lancashire Quality Award team who will support practitioners through the process.
The seven modules within the award are:
Relationships with children, parents and the wider community – building

relationships in order to ensure that children's sense of security and their sense of value is nurtured. This module looks at supporting the settling in and transition processes and at ways in which to share information about the child.

Sharing food and celebrations – maximising the learning potential within well

planned meal and snack times. This module also addresses ways in which children's achievements, large and small are celebrated.

Leading a successful team – the quality of provision is directly related to the quality of leadership. This module looks at ways in which the leader can empower other members of the team.
Opportunities and experiences – maximising the potential within the learning

environments indoors and at the quality of opportunities and experiences that are offered to children in order to support their learning and development within the EYFS.

Making the most of the outdoors – the outdoor learning environment and the opportunities and experiences that are offered to children outdoors

in order to support their learning and development within the EYFS.

Role of the adult – the key person systems, the support for children's personal, social and

emotional development, the opportunities for children to develop communication skills and strategies to support positive behaviour management.

Meeting everyone's needs – safeguarding children, child protection and inclusion.
Each module is built around a set of standards which need to be reflected in practice. There are some self-evaluation indicators to support each module and a set of questions to prompt discussion and provoke thinking. By working through each standard, participants should become aware of areas where improvements are needed.
Participants will be asked to record responses to the questions in light of their discussions as a staff team. These responses will be collected in a portfolio. Any supporting evidence is shown to the mentor and verifier.
The modules can be undertaken in any order. When any two have been completed, settings will receive an award for completing stage one. A further three modules will lead to stage two being awarded. The final two modules will lead to stage three and the full Lancashire Quality Award being presented.